EDUCATION

METAVERSE

ENTERTAINMENT & SPORTS

VENTA X
METAVERSE

We provide a synchronized space with the real thing by producing historical sites, art works, and tourism resources with photo scanning and CG.
You can communicate through real-time voice text messages with social functions.
Creating custom metaverse

Real space metaverse production
Cultural heritage site metaverse production
Designed for a variety of platforms(ZEPETO, Gather.town)

※ Utilization area: Convention, Exhibition, Historic site, Cultural asset architectures, Terrain map, History, Art, Geography education

Metaverse education platform DUUDUU

It is a metaverse educational content that goes on a tour with a guide
by performing XR realistic scanning and modeling of historical sites, art works,
and tourism resources considering the curriculum and developmental learning process.
Sorry, your browser doesn't support embedded videos.

Gameunsa Temple

Sorry, your browser doesn't support embedded videos.

Chomseongdae

Sorry, your browser doesn't support embedded videos.

Seokguram

Sorry, your browser doesn't support embedded videos.

Daeungjeon Hall
※ We are planning to implement 10 areas by the second half of 2021.
XR, 3DVR, Volumetric, Photo scanning technology, CG technology combined 3D scan real metaverse
3D scanning is performed using photo/drone scan, and volumetric technology to map to the virtual reality space.

If you have a Web Address (URL)
PC, mobile, and VR devices are all accessible

Avatar and CG production technology optimized for metaverse in 3D environment
※ Applied area

Education / Entertainment / Conference / Exhibition / Tour / Game … and more

※ Compared to the animation metaverse, it has high graphic quality, minimize alienation from reality through realistic scanning, and fast production speed for shooting/conversion.
VENTA X

S3D VR · 2D Live ONE STOP SERVICE Optimized for Non-Contact Concerts

It is a project to support the 5G flagship project of the Korea Radio Promotion Association(RAPA) that can utilize planning/production/transmission/IP contents & contents.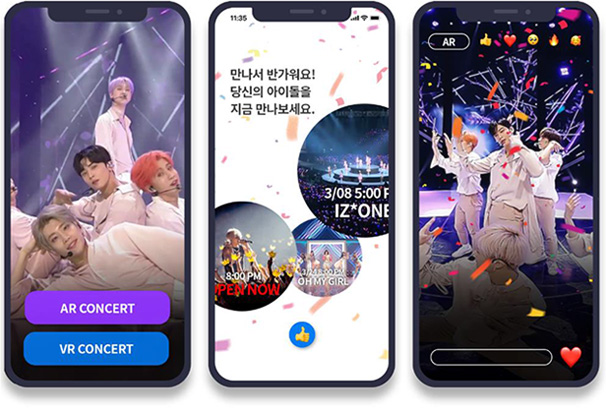 S3D VR, 2D
View function to suit the viewer's preferences

VR, XR, 2D available

Ticket Payment / Performance and Documentation Service Information/ Customer Service
High Definition S3D LIVE

· Ultra High Definition VR LIVE

: Extreme field implementation power by minimizing VR's unique spatial curvature
: Have multi-type / multi-cam image acquisition system technology
: It has performance optimization technology by expressing detailed color of motion and LED lighting

AR

· Special production technology based on 3D volume matrix

LG U+ Realistic AR Content Planning-Production-Production-Exclusive, Global Launch AR Content 600 Production (Korea's largest)

High Definition S3D VOD

- Planning: 3D VR-specific real-life maximization story development and advance visualization planning
- Production: High-definition HFR (10 bit 60fps), Self-developed high-definition VENTA RIG shooting
- Post-Production: 3D stabilization and stitching refinement work

※ 100 contents production professionals (based on 5-minute video) for about 3 months and has system infrastructure.