VENTAVR is a 3D VR studio
that can perform both content planning and production.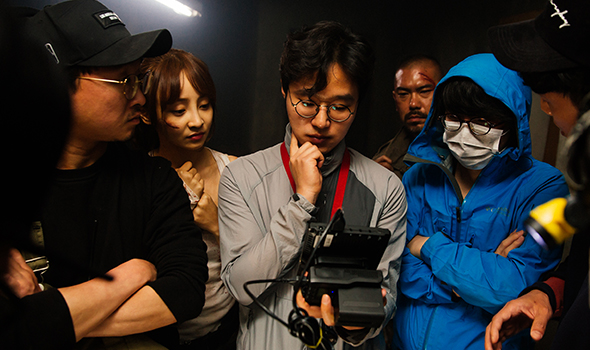 With the best experts in the industry, we have built a 3D VR One-Stop System covering a wide scope of tasks from pre-production specialized for VR and production process utilizing independently developed VR rig to post-production requiring 3D effects and elaborate stitching work.

In addition, we provide differentiated tangible content services in various fields such as 3D VR LIVE solution, CMS, and AR production using volumetric technology.

VENTAVR co-produced Bloodless (2017, directed by Kim Gina, Korean title: Dongducheon), a VR film which received the Best VR Story award at the 74th Venice International Film Festival, and attracted seed investment in 2018. Since then, VENTAVR is actively collaborating with multinational conglomerates (LGU+, Google, Huawei, China Telecom, DMM, etc.) to produce original contents.

Currently, VENTAVR is producing tangible 'Ultra High Definition 3D VR' and 'Volumetric AR' contents suitable for 5G and is constantly taking challenges for global advancement and new opportunities by researching technologies in new areas.

We invite you to the world of VENTAVR that is always new and amazing.

Tel : +82-2-2132-5554
E-Mail : staff@ventavr.com
Planning Team

Coordinates the entire process of the work planning
stage, including the establishment of project concept
and development of story specialized for VR,
and performs the role of leading the project to a successful outcome.

Content Development Team

Implements and develops various functions through
programming to ensure richer implementation of
VR and AR contents.




Production Team

Directs all technologies on the production site
based on abundant knowledge and
know-how of video production technology
and is in charge of shooting-based R&D.



Post-Production Team

Produces differentiated high-quality images through
post-production know-how consisting of stabilization
and elaborate stitching via 3D correction using
independently-developed technologies in VR images.




Management Support Team

Provides support for sound company growth by
continuously checking performance and
identifying risk factors and improving them.
Operates the firm to achieve management goals
by improving business capabilities
and establishing management plans.